When:
February 23, 2018 @ 9:00 am – 5:00 pm
2018-02-23T09:00:00-05:00
2018-02-23T17:00:00-05:00
Where:
Atlanta Airport Marriott Hotel
4755 Best Rd
College Park, GA 30337
USA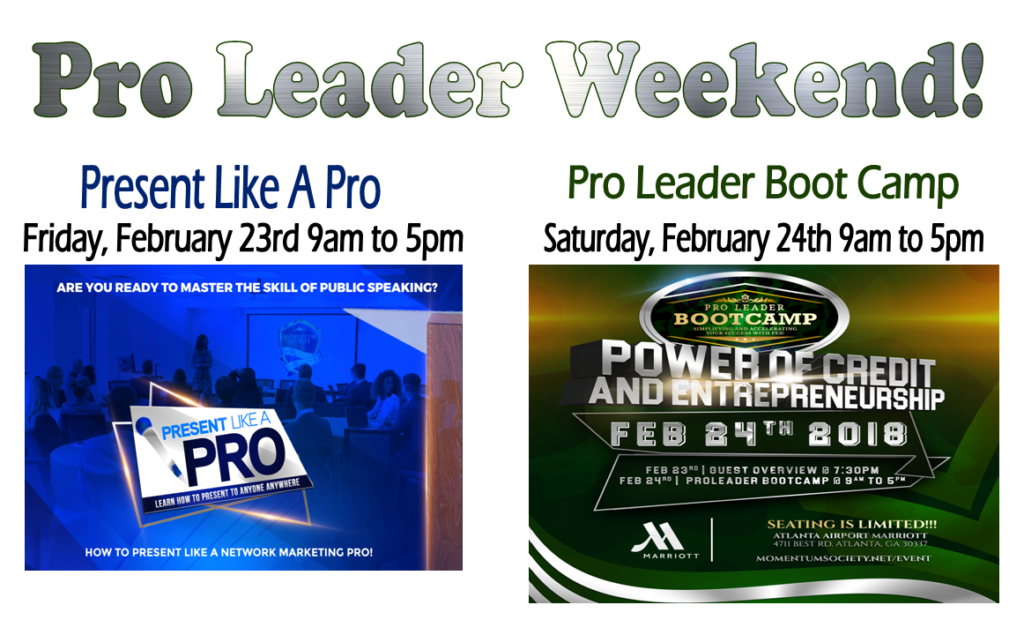 Two training events, one incredible weekend… 
First on Friday, February 23rd we have the Present Like A Pro event from 9:00 am to 5:00pm.  If you've been looking to learn more about how to properly present Overviews, 1 thru 10 and one-on-one presentations – this training is for you!  Then on Saturday, February 24th, it's our popular Pro Leader Bootcamp, our in-depth advance training for Agents that are ready to Take their Business to the Top!
Friday, February 23rd
Present Like A Pro | 9am to 5pm
During this exciting training event, you're going to get the information you need to share the opportunity, explain the services to prospective customers.  In this detailed and interactive training, you'll learn:
Saturday, February 24th

Pro Leader Bootcamp | 9am to 5pm
It's back and better than ever!  That's right, Pro Leader Boot Camp is coming back to Atlanta!
It's time to get serious about growing your business and no better way than with the Pro Leader Boot Camp!  During this full-day educational event, you'll learn:
How to Properly Launch Your Business
Going from Employee to Entrepreneur
Overcoming the Fear of Prospecting
Simple Scripts that Close without Being Salesy
Mastering and Explaining the Benefits of our Products and Services
How to Use Your Story to Attract and Close Your Ideal Prospects
How to Effectively Set and Implement Goals
How to Create An Income Producing Routine Even If You're Part-time
Building and Structuring Your Team for Duplication
Cold Prospecting From Opening Conversations to Closing Customers and Agents
Creating Your Social Media Strategy to Attract Your Ideal Customers and Agents
From the Back Office to Your Bank Account: Getting Paid in FES
How to Make Your Income Predictable
Secret Habits, Skills and Strategies of Top Earners
Achieving and Maintaining Your Title
How to Retain Your Customers and Agents
Our Event Refund Policy:  There are no refunds for this event.  However, upon request via email to momentumsocietyusa@gmail.com, a credit can be given towards any Momentum Society event.